Craig Brenner: Exploring the Jazzy Side of Blues & Boogie Woogie Piano
"Craig Brenner is a fine and funky pianist..." - Living Blues
Blues, boogie woogie, and jazz pianist Craig Brenner is a composer, teacher, and recipient of arts grants. The leader of Craig Brenner & The Crawdads, Craig has recorded seven albums, founded Bloomington Boogies: The Bloomington Blues & Boogie Woogie Piano Festival, and is a member of The Ragin' Texans.
Craig's latest recording is Passages (read about Passages below).  Other recordings include 
Live to Love, by Craig Brenner & The Crawdads
Live at the Old Mint: Blues and Boogie Woogie Piano, with Alfred "Uganda" Roberts and Lori Brenner
Window on the Soul, with members of Craig & The Crawdads
Man at the Piano, with members of The Crawdads and special guests
Backstage Boogie, with Dan Hostetler on drums
Listen to samples by clicking on Music. 
Passages - original jazz, blues, boogie woogie, and more - on vinyl, CD, & files for download. 
More reviews are at Music (scroll to reviews). Listen to "Looking for a Job," produced by Nate Brenner (Tune-Yards, Naytronix). Passages made in part thanks to the IN Arts Commission, which receives support from the State of Indiana and National Endowment for the Arts.
Available again in limited quantities (CD) - Live to Love, by Craig Brenner & The Crawdads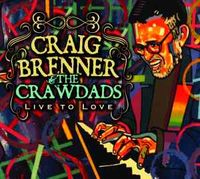 Due to COVID-19, musicians lost revenue for two years. Make a donation.
Click below for information about
Craig Brenner   Boogie woogie, blues, jazz, stride, New Orleans, and barrelhouse piano
Craig & The Crawdads   Foot-stompin' New Orleans R&B, Zydeco, blues, jazz, and swing
Listen to Craig & The Crawdads play Craig's "Backstage Boogie"
Craig & Lori  Cocktail jazz, blues, swing, torch songs, and boogie woogie